A week of camo & glitter!
After a week of doing a bit of Army work, I had to rush home to prepare for my cousin's 5yr old fairy birthday party that I helped plan and I had to do all of the party guests' makeup. Before the party I went out looking for glitters, gems, rhinestones and pigments,specifically for the birthday girl. I went to hobby lobby and picked up what stackable glitters they had left as well and a bag of multicolored acrylics gems. Then I went over to sally's to get lash glue, disposable eyeshadow, mascara, and lip brushes and I saw the worker was restocking all the 99cent makeup items. Now I'm a sucker for small cute things so when I saw the Sparkle Girl loose glitters I got excited so I picked up a few colors and got the glitter glue to go with it. I was like if I didn't turn out right, only $3 would've been wasted.
The Sally's glitters are really bright and most of the colors have a neon green undertone. They aren't very consistent though and they take alot of packing. Instead of making her waterline look lined it looked more as though I just put pieces of glitter here and there. There was also TONS of fall out. I decided it might have been the lash glue that was destroying it so I went with the Glitter Glue that was made for it and that was worse so I ended up taking most of it off. The acrylic gems i picked up were perfect and had all the colors I needed for about $4 I believe, I applied them with lash glue and they stayed on perfectly. I absolutely love the stackable glitters, I applied lash glue and then the glitter, it was amazing with minimal fallout and WAYY better than the
Sally's glitter.
My objective for the birthday girl was to give her a beautiful fairy look without making her look like a
5yr old drag queen
. Her party was Tinkerbell themed so I knew I wanted her to have purple, blue and green eyes. I knew I wanted to go all out for her but I had never worked with gems or glitter as eyeshadows. The night before I did a few practice runs and it was...
chaotic
. Overall, everything looked perfect and she loved it. I ended up giving out my number to a few of the moms and got an invitation to do makeup for 30 girls. I'm just happy my little fairy enjoyed her night.
Here a few of the practice photos. I ended up adding 4 gems to each eye.
Final Steps:
**I blending a lime green color into a sky-blue into a royal blue.
**I lined her upper eyelash line with purple glitter liner and her water line with the light blue Sparkle Girl glitter.
**After lightly smearing green eyeshadow around her eyes, I applied lash glue and added silver and purple gems around her eyes.
**I moisturized her face and applied maybelline foundation with NYX cream blush and set her face using MAC.
**For her lips I used BH Cosmetics lip liner in raspberry, MAC Viva Nicki lipstick and NYC hot pink lipgloss.
Main Items Used:
Hobby Lobby Stackable Glitters
Sally's Loose Glitters
BH 120 Palette-#2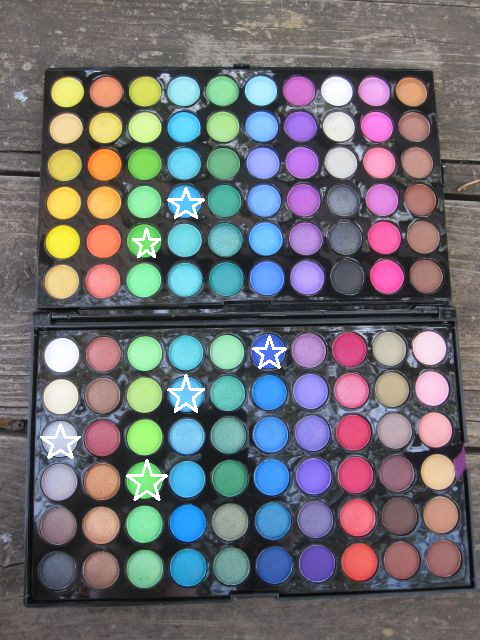 NYX Crystal Eyeliner
I hope you beauties enjoyed, Happy Holidays and Happy Readings <3