Recently, MAC released a few MAC items from the professional line to be sold to the public, without a professional card of course. As expected, everyone went loca and most items are constantly being sold out. One in particular I can never get me hands on in Violetta, which you'll see below as #7. I decided to compile a list of all the items that first caught my eye and are still on my wishlist.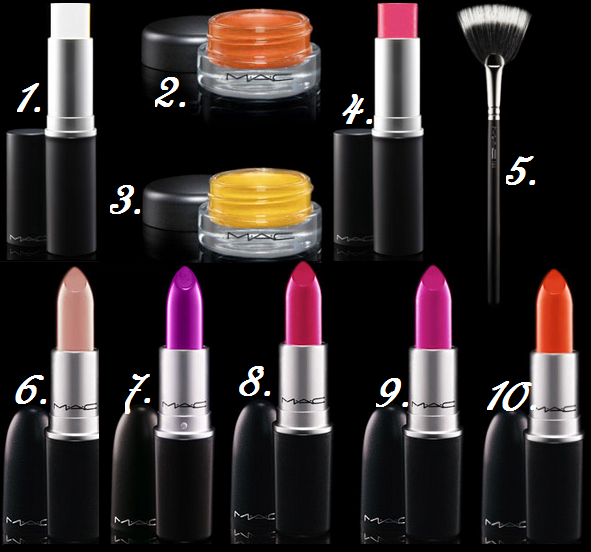 1. Paint Stick in Pure White Highly pigmented, emollient colour stick. No grease or shine. Apply to skin directly or with a brush. May also be sheered down with a sponge.
2. Chromaline in Genuine Orange A waterproof gel/cream liner that provides all the smooth graphic benefits of a liquid liner. Creates precise, long-lasting lines of intense colour with dense matte coverage. Versatile palette offers both vibrantly bright and blackened shades. Applies smoothly, sets quickly. Waterproof and smudge-proof.
3. Chromaline in Primary Yellow I haven't experimented with many bright cream eyeliners that weren't glitter and I'd gladly let Primary Yellow and Genuine Orange be the first.
4. Paint Stick in Primary Yellow I must have these two paint sticks, I can only imagine the possibilities I can use these for!
5. 184 DuoFibre Fan Brush A flat, fan-shaped brush of soft synthetic fibre/goat hair blend. Can be used for featherweight application and blending of pigments and powders or as a tool to gently clear the skin of any excess product.

6. Fleshpot Colour plus texture for the lips. Stands out on the runway. Simmers on the street! What made M·A·C famous.
7. Violetta This is definitely my #1 pick, I'm completely infatuated with this purple and it'll be my first shade of purple lipstick. It appears so deep and rich without overdoing it.
8. Full Fuchsia If you haven't realized this yet, I love pink! It's vivid shade is sure to be one of my favorites pink lipsticks.
9. Show Orchid This subtle, warm and bright shade will only be the strawberry to my collection of pink lipsticks!
10. Neon Orange This shade would be my #2 because I'm a sucker neon colors and this shade is absolutely gorgeous and well pigmented.