Hey beauties! Welcome to Day 2 of Summer Madness! Lately I've been becoming quite the natural eye girl! I picked up this lovely Color Tattoo in the shade "Bad to the Bronze" from Walgreens.
It's a gorgeous deep gold with a hint of shimmer. It's creamy and slides onto my lids with a metallic finish. I know each Color Tattoo shade has it's own life span but this one really lives up to it's 24hr staying power. I use a flat eyeliner blush from elf to apply and smooth it out. Color tattoo's are popularly used as an eyeshadow base but I decided to test it's real durability by applying it without a primer and using it as a single eyeshadow.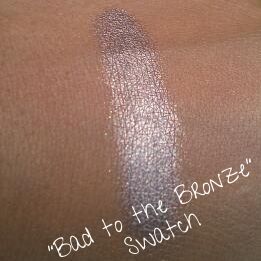 Pros: Good Pigmentation, Creamy, Affordable
Cons: Needs to be smoothed out or it'll crease by itself.
Tips: Apply with primer and eye brush.
Dupe for: Benefit- Bronze have more fun, No Pressure
Have you tried out this shade?