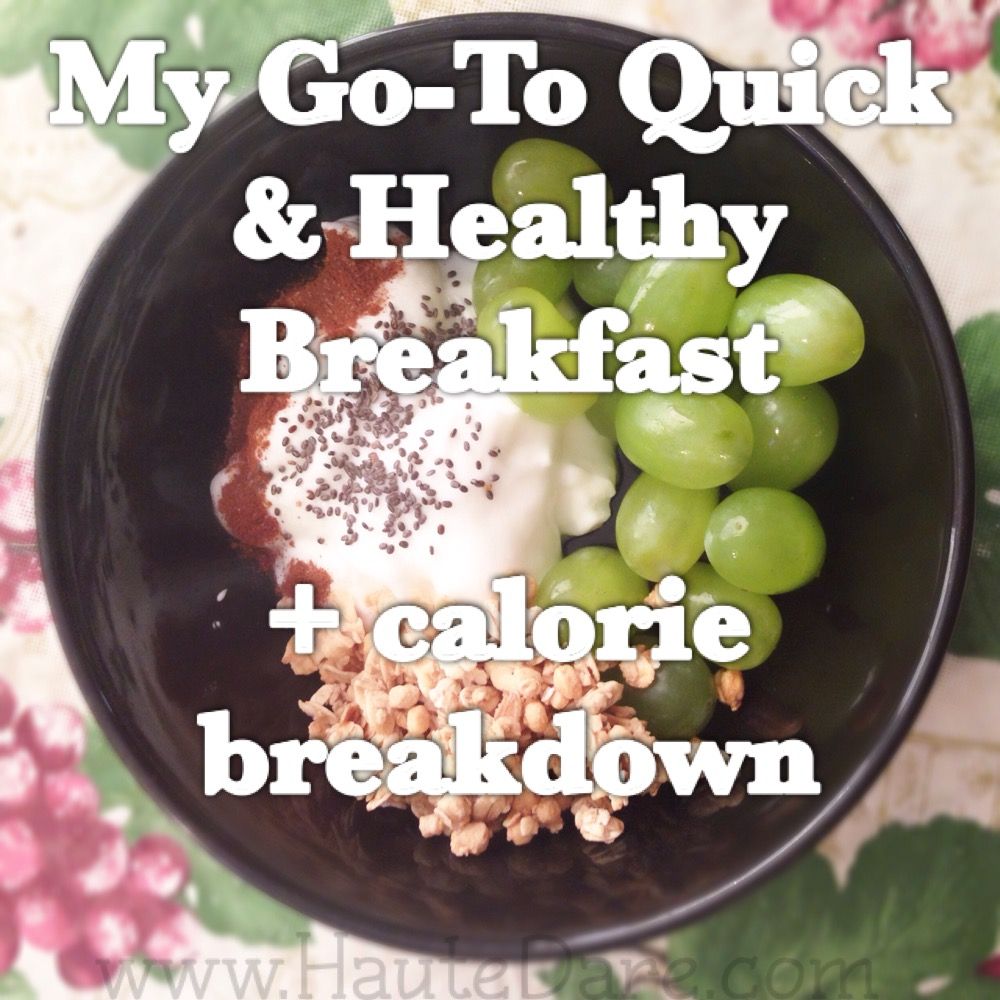 When it comes to makes better food choices: I'd like to change my lifestyle for the long run, not just "diet" for a few weeks. I'm not a health guru nor a nutritionist but I've realized that replacing atleast some of the bad foods in your diet with health(ier) options can really cut down on the bad nutrients you would've consumed otherwise, such as high amounts of calories, saturated fats, sodium and sugar. In my opinion, any little bit helps. If you're not into counting calories, this post can still guide you on the path to making a quick, healthy breakfast in just a few minutes! If you don't care to hear my calorie rambles, just press read more and get to reading :)
You don't have to go out and buy a scale to lose fat, weight or inches;I just like to know exactly what I'm eating. When I understand what I'm eating, I'm able to focus on whether or not I really want to eat it. For example: knowing that my favoriteee breakfast (A.M. Sausage Crunchwrap from Taco Bell) has 710 calories and heap ton of other bad things, I no longer have the desire to eat it several times a week!
Let's Get Into This Bowl!
Seriously, I love this yogurt; it tastes like regular yogurt--maybe better. I typically eat around 1/3 cup, a maximum of about 80cals. For this meal, I used 75grams of yogurt for 50 calories.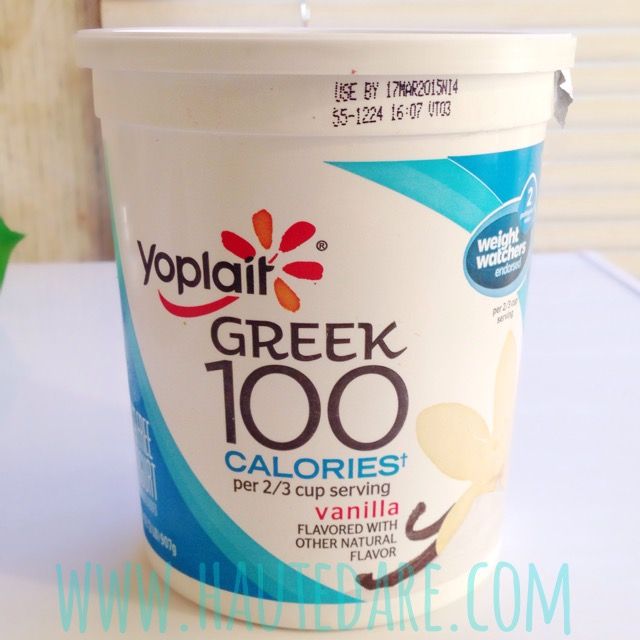 I like to switch my fresh fruit around for this bowl often; alternating blueberries, strawberries, blackberries, and grapes. This week, I used only green seedless grapes: 83g for around 55 calories. As you can see, I used a 1/2 cup here which you can use too or estimate if you don't have time to spare.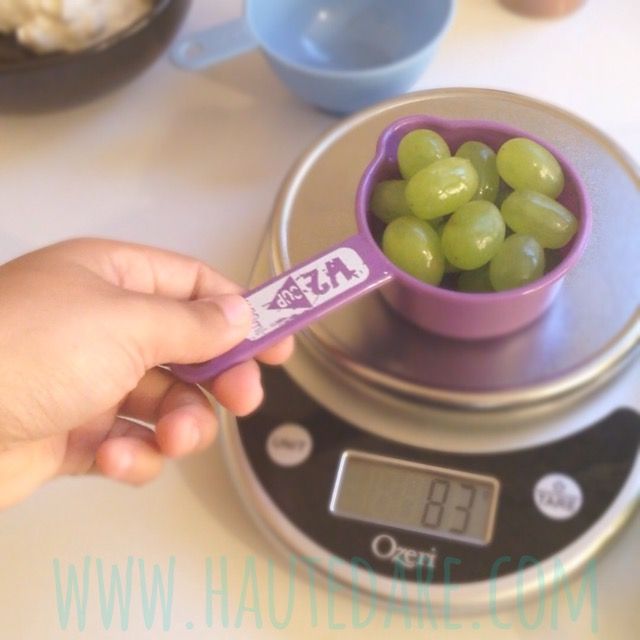 Ahh, granola..protein granola at that! I used a 1/4th cup to scoop it up and measure around 25 grams for 105cals.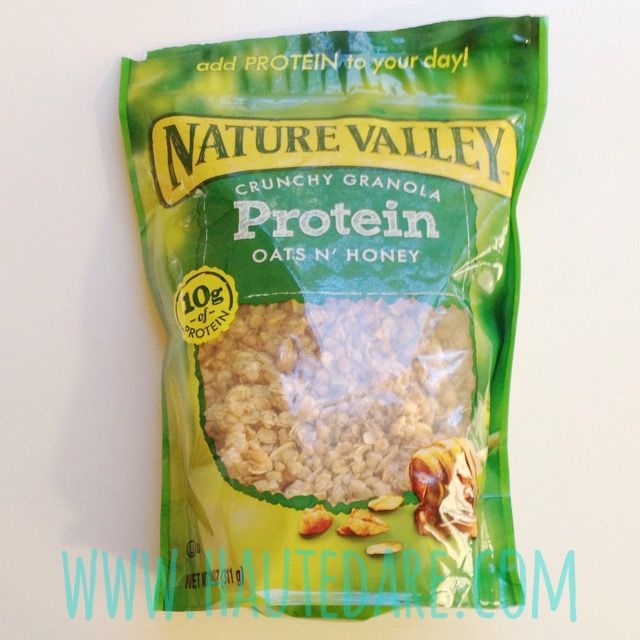 Lately I've been obsessed with chia seeds. I purchased this nice size bag from amazon as well, check out Chosen Foods Chia Seeds here. These little wonderful babies have 60cals per tbsp(12g). I usually grab the just a pinch or a teaspoon to scoop them out for small bowls like this. For this bowl, my 'just a pinch' measures out to no more than 5cals. Next up is the cinnamon, which I added just a pinch for just about 4calories max.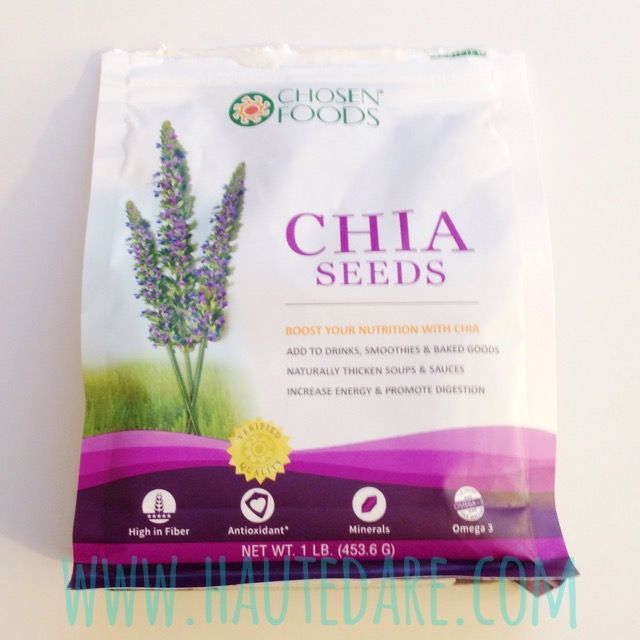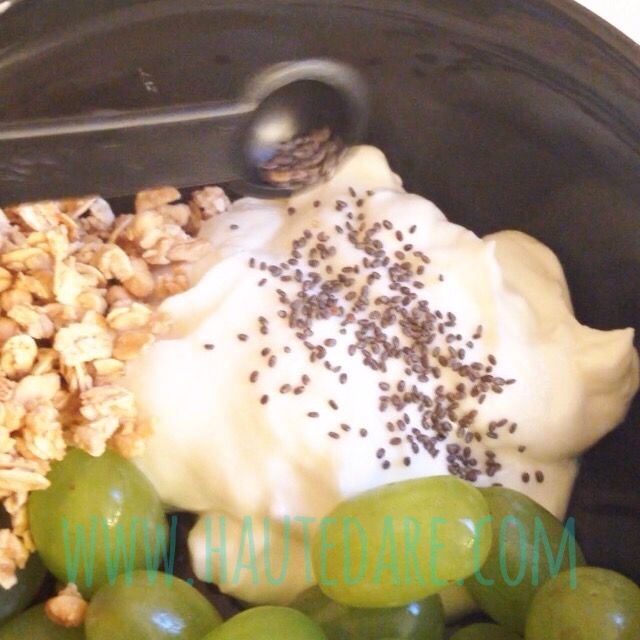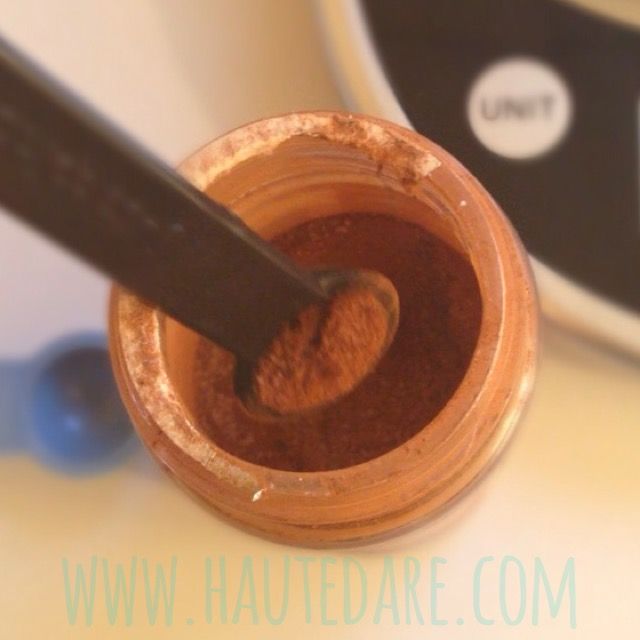 The end result? A yummy breakfast bowl for around 250 calories. I keep my first meal low in calories, due to lack of time to eat it plus I usually have a protein shake before lunch.
Whenever I'm in a rush and don't have to meal prep, I grab my measuring spoons to dip all of the ingredients, by using my scale in the past: I can basically 'over-guestimate' how many calories my bowl contains. Remember you don't have to weigh all of your food to reach your goal, just train yourself to estimate your portion control and your good!
Bowl Facts:
Prep Time is under 5mins

Easily 250-300 healthy cals

Chia seeds and cinnamon add an insane amount of fat burning, craving snatching, omega-3, fiber and protein that will keep you satiated longer, with just tiny servings of each

Adding granola also keeps you full longer. Using protein granola helps me reach my protein-intake goals for the day

Grapes are low in calories and great source of Vitamin K

The yogurt I use is endorsed by weight watchers and is a great replacement for regular yogurt. Yogurt is always a better option when eaten in moderation because it generally has more protein for the less the carbs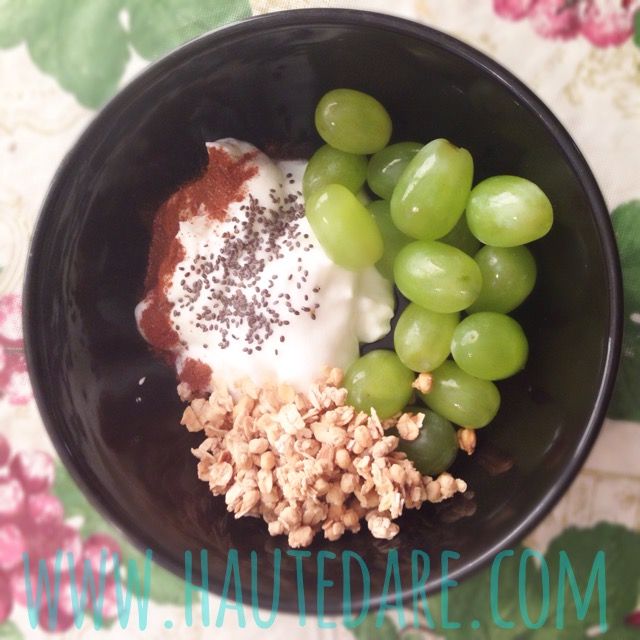 Do you check calories sometimes?
What do you normally eat for breakfast?
Care to see more on healthier meals and general health-conscious posts?